Hi guys,
I'm a tier and I decided to test all my range of threads that I use frequently. After me is not an easy job because all producers don't use the standard charts: Denier(grams per 9000m) or Decitex(grams per 10000m). They use the diameter of the thread and this is very difficult to measure. Also all producers claim their thread is stronger compared with others. Depeding of the material, if is a multi fibers threads or mono fiber threads, depending is is twisted or not, all this particularities and characteristics modify the strength of the thread and of course modify the look of the thread on the hook shank.
I had a few days off from my family for tying so I decided to make a small article about fly tying threads that I use for my flies.
I tested Uni Threads, Gordon Griffith's threads,Veevus, UTC and Textreme
I tested the thread from this point of view: how looks these threads on the hook shank compared with the diameter described by the producer.
I used a 5/0 Daiichi Pike hook and 6 turns of each type of thread.
I started with Caenis and Trico from Uni:
Caenis is a mono type of fiber ( white and black) 20DEN,
Trico is a multi type o transparent fibers non twisted, 40DEN: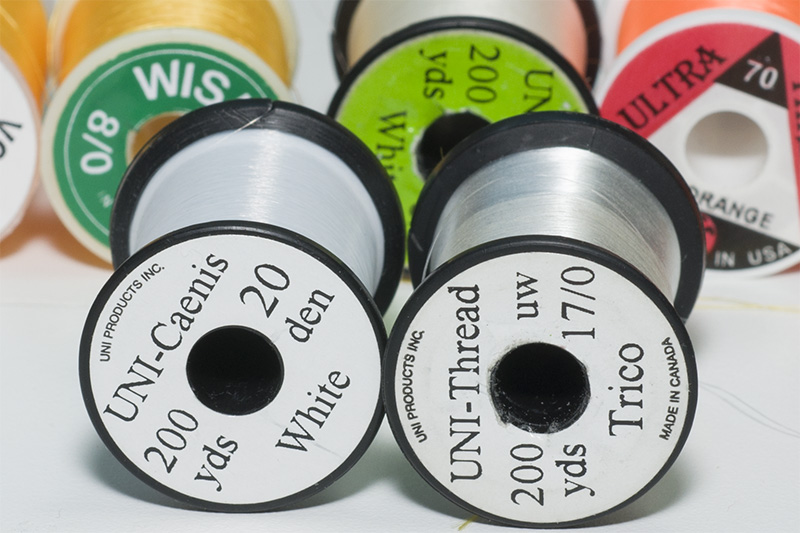 Bellow you can see how looks on the hook shank.
From the left to the right: caenis and trico. Caenis is fragile and I use it for small flies tied under #22. I find this mono cord type of thread difficult to use and apply dubb on it. But hey !, for small and delicate flies you don't have to work so much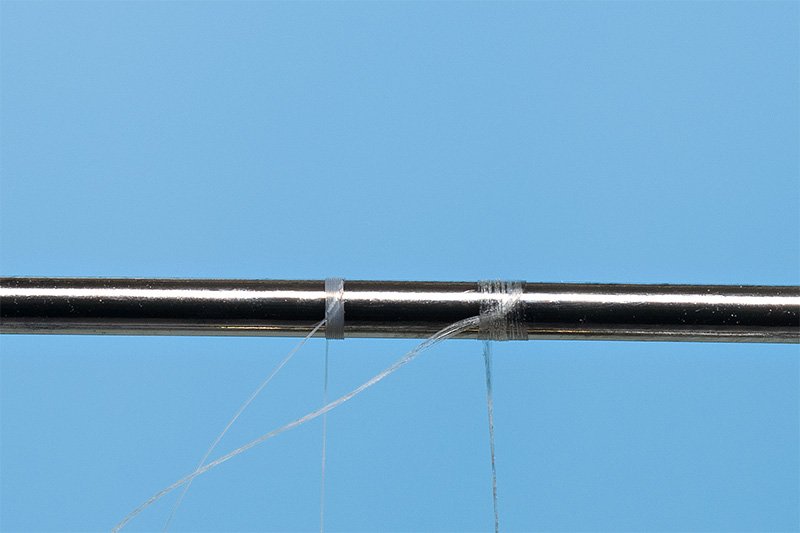 The next is is Gordon Griffith's Sheer.
The GG Sheer looks very similar with Trico and I noticed that is more resistant to the pressure. I buy this thread from Funky Fly Tying – Tobby Merigan – and I like it. One note – this thread is twisted.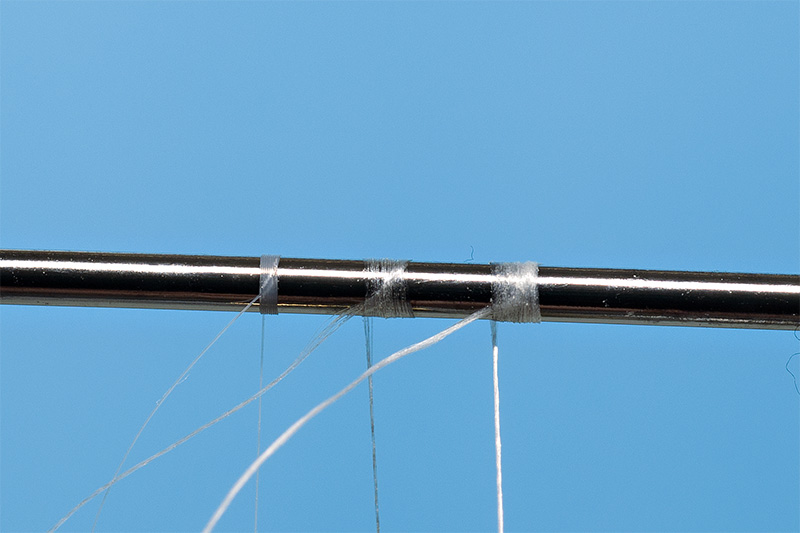 The next threads tested on the hook shank are Sheer, Veevus 10/0 and Wisp 8/0. An observation : sheer and wisp from Gordon Griffith's are twisted and Veevus is medium twisted.
I noticed that these threads that I use have the same colors: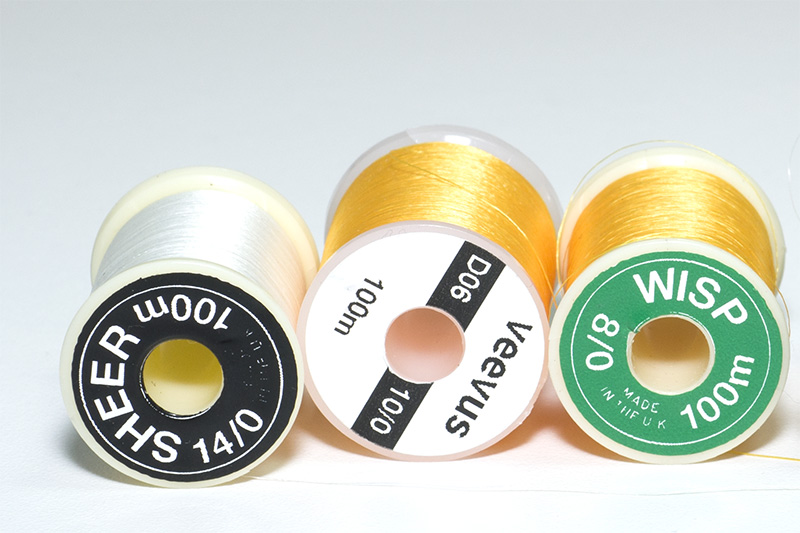 For me these fly tying threads seems to be identical on the hook shank: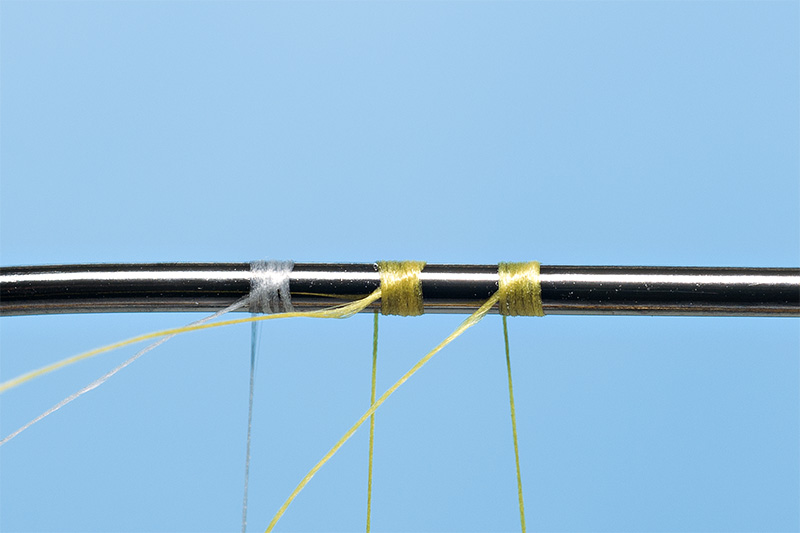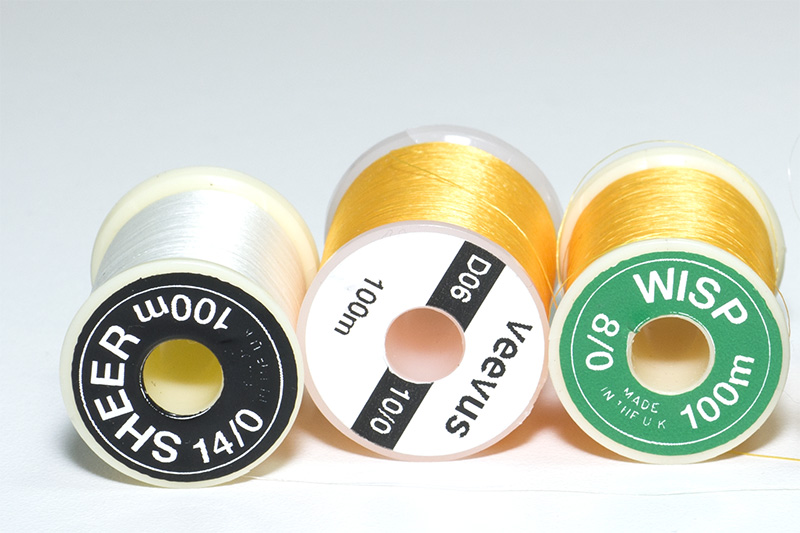 So 10/0 from Veevus looks like 8/0 from Gordon Griffith's. To check the size for these thin threads is not easy, but I have a friend who is professor at University of Physics and I will try to make a measurement in the lab.
In my opinion the correct way to classify the threads is to use the standard Denier or Decitex chart.
Anyway lets go further:
The next tying thread is a white Uni 8/0 of 72DEN and seems to be thinner than Veevus and GG Wisp. 8/0 Uni is twisted and not waxed. This is another interesting surprise from the diameter point of view declared by the producers. Anyway it is difficult to check exactly but I will ask my friends from University if he can make a RMN test.
The fluo orange UTC 70 thread is very flat on the hook shank. very shinny and semi transparent with a nice translucent effect. I like this tread because has parallel fibers in composition. The colors are very nice and you can make bodies for beautiful flies. One note, due the fact that the fibbers are not twisted is not easy to work with and some tiers hate this thread. In the end is a matter of taste . This thread is the next "tested"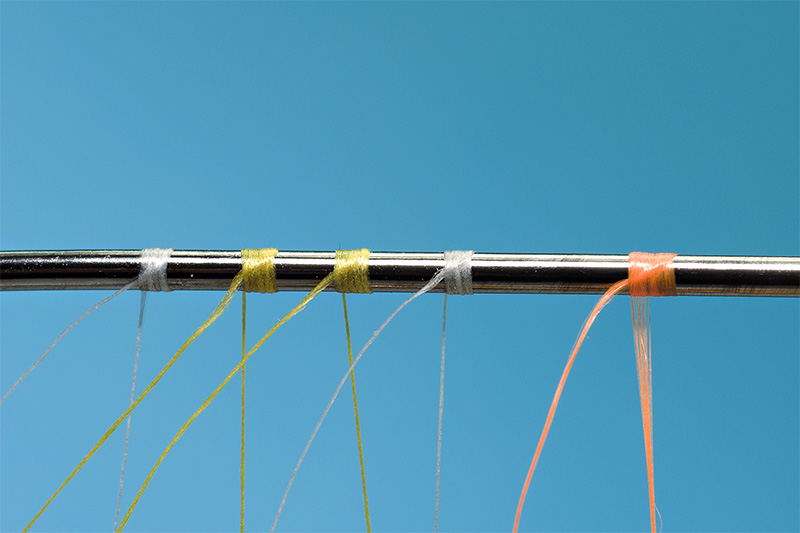 The following threads are Uni 6/0 with 136 DEN and the italian thread 6/0 from Textreme.
Wow, another surprise!. Uni 6/0 seems to be more thinner than UTC 70 and Textreme 6/0 seems to be more thinner compared with Uni 6/0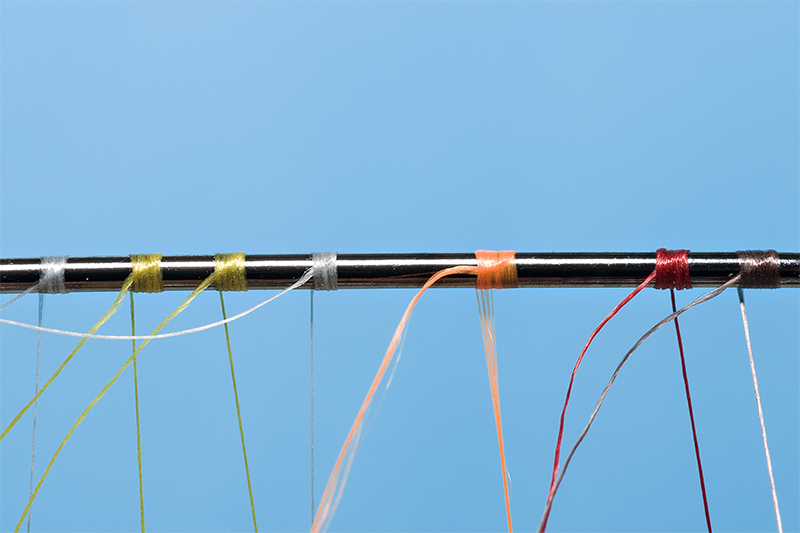 And bellow you can see all these threads that I've tested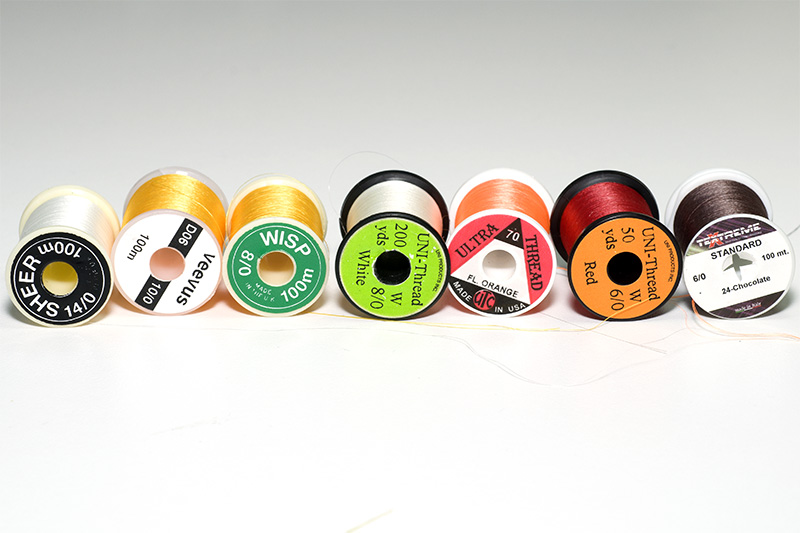 I invite you guys to tell me your opinions and share your experience from these threads and of course with other brands .
cheers and all the best,
Lucian
PS
for those who are looking for these fly tying threads you can by them also from troutline fly tying shop . The prices are competitive !
Anyway will prepare soon another article where I will measure the diameter of each thread from this small article and the breaking strength also.
cheers and happy tying


Lucian